Students Aid Liberia seeks Scholarship Support.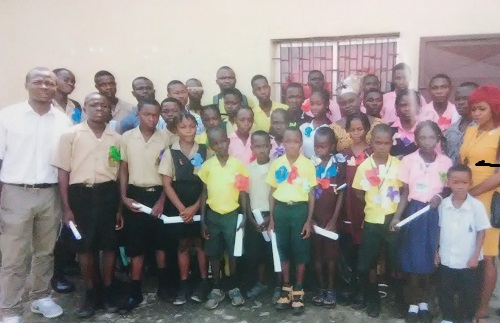 Students Aid Liberia, had been one of the many organizations in Liberia that provides scholarship  to students across Montserrado county and Liberia as large. The organization have helped more than hundred students and youth  dropped out of school to continuous their schooling in order to achieve their dream and be better leaders. Today marking the closed of the academic year 2018/2019 the president of the organization assured students of continuing  their quest for better education and receiving scholarship for this coming year 2019/2020. Mr. Washington disclose to the pupils that he in partnership with a friend from Canada; Amb.  Curle Ryan who had accepted to served as SAL ambassador  and made his initiate contribution toward our students program and hoping to sponsor some students for this coming academic year. However, the among of students to benefit was not told and assured students that Curle as a student  is doing everything possible in his weak way to help put smile on students  and youth faces.
However, students who benefited from this year program thanked the organization and its volunteer for coming to their cries and saving their future this time and prayed God touch  philanthropists  heart to sponsor more students.
this year  Students Aid Liberia was able to help forty-six students.
Fifteen from the Elementary and Nursery  division
Twenty from the Junior high  division
Five from the Senior high  division
Six from the Vocational and training schools .
The Vice President Mr. Kesselies  thanked  God for this level of achievement for this small organization in reaching this far.
Students Aid Liberia Media Team. .
Warning
: count(): Parameter must be an array or an object that implements Countable in
/home/www/saliberia.org/wp-includes/class-wp-comment-query.php
on line
399